A Call 2 Peace
A Call to Peace™ (AC2P) is a series of concerts that includes the participation of known artists from around the World.
The repertoire varies according to the "Call's" occasion and there are many possible formats for the said presentations.
From the simplicity of two artists sharing the stage, a small ensemble of talented musicians from around the World, accompanied by a string quartet or a Youth Orchestra, to the participation of the mentioned supporting artists, amidst a musical landscape of a Philharmonic Orchestra and a rhythm section adding the many colors of World Music.
Short videos circulate between and during music performances, showing scenes of the daily life together with quotes from Masters and Poets that dedicate their life to sing the glories of Peace through time and places.
Music and visuals then become an avenue to bring forth a simple yet profound message about the possibility of Peace.
The lobby of the concert venues could provide space for organizations that are dedicated to promote and support Peace (The Prem Rawat Foundation (TPRF), International Day of Peace, Red Cross, etc).
This is an invitation for you to participate in the production of this powerful and unique series of events.
"A Call to Peace" is here, now.
Click here for AC2P Live Performances and updates
---
www.acall2peace.org

---
→ Are you interested in being a part of, and helping the AC2P concerts series and music?
At present, we are working to finish a new series of extended pieces of recorded music along with the videos that will accompany the music.
We are asking for your help to raise the needed funds to complete the recordings and visual presentations.
Once we achieve that goal, we will bring the concert series to local communities throughout the United States.
If you can help, your name will be added to the credits on the CD, and you'll also receive a free download copy of the CD & printable cover as a thank-you for your help.
Please check it out via this link here and donate what you can:
→ www.generosity.com/community-fundraising/a-call-2-peace-multimedia-events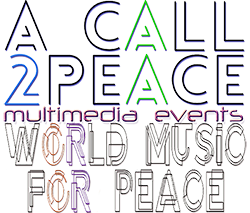 ---
"How would it be like, if every human being on the face of this World had Peace?
We are so attractive when Peace is dancing in our eyes.
Peace is possible, it is already happening, it is no fantasy.
I have to put Peace at the beginning of the list, it is up to me."
Prem Rawat
---

A Call 2 Peace™ - multimedia events
eMail: info@signoremusic.com


Subscribe to Newsletter to keep updated of concerts, new releases, new videos and more: